Veliko Tarnovo
---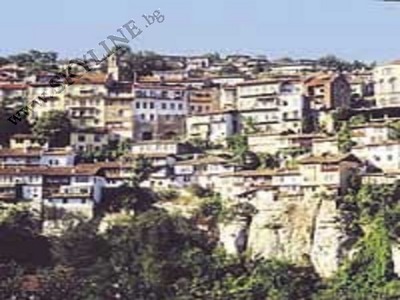 Veliko Tarnovo has been often and rightly compared with Rome due to its unique location on three hills Ц Tsarevets, Trapezitsa and Sveta Gora and crossed by the picturesque Yantra River. The town is situated in Central Northern Bulgaria Ц 240 km from Sofia, 230 km from Varna, 100 km from Rousse. This strategic location makes it to a meeting point of several important roads.
Veliko Tarnovo is the old capital of Bulgaria. From 1185 to 1395 it used to be the political, administrative and cultural centre and the most important fortress in Bulgaria.
Sightseeing in Veliko Tarnovo and surroundings:
If you are going to visit or to settle down in Tarnovo, you should definitely take your time and tour some places of interest in the town and its surroundings. Here a list of the most impressive:
Х The house with the monkey
It was built in 1849 by order of a rich businessman from tarnovo and is one of the architectural masterpieces made by the famous Bulgarian builder from the Revival period Master Kolyo Ficheto. Above the ground floor on the façade has been put a sculpture of a sitting monkey, which gave the house its name.
Х The Hill of Tsarevets
The main fortress of the medieval capital, today an open-air museum where the remains of the medieval palaces and churches are exhibited. Unique audio-video effects complement the perception of the historic atmosphere.
Х The Hills of Trapezitsa and Sveta Gora
Both hills were spiritual centers of the medieval town with lots of churches and monasteries, in which the Medievil Bulgarian culture and arts were preserved and developed.
Х The village of Arbanasi
It is a unique settlement from the 15.century, located 4 km to the northwest of Veliko Tarnovo. The village is famous mainly for its antique fortress-style houses from the 17-19 century ( i.e. Kostancalieva house, Hadgiilieva house )
Х The Transfiguration monastery
It was built in the 14.century 7 km to the North of Veliko Tarnovo. At the time of the Turkish foreign rule in Bulgaria ( 1395 - 1878 ) the Transfiguration monastery was torched and plundered several times, later completely destroyed. In 1882 it was reconstructed by the genius builder Master Kolyo Ficheto and Zahari Zograf.
Town Information
BuyersТ Guide
About Bulgaria
© Skyline-Bulgaria ltd. All Rights Reserved. Website by
EBPW
Graphics Design ©TSA